SASE FOR SECURE NETWORKING, ANYWHERE
ONE VENDOR. NO COMPROMISES.
When you move from legacy, on-premises networking and security to a modern SASE approach, protecting and optimizing your network is simple with GTT Secure Connect.
Your Network is Expanding
As a single cloud-based service, SASE delivers global, reliable, and resilient wide area network (WAN) and end-to-end protection for your enterprise. Converging WAN and advanced cybersecurity services into an integrated solution, SASE lowers risk across your network—and keeps business assets secure—while supporting a growing network perimeter.
From application-aware routing to firewall and anti-malware protections, and blocking of malicious sites, Secure Connect from GTT gives you optimal safety in a work-from-anywhere model.
Everything You Need to Move to SASE.
Secure Connect protects architectures of all sizes with a layered approach, covering a spectrum of your enterprise's network requirements as it moves to a modern connectivity model. Reducing expenses and maximizing freedom, each service strengthens the other to deliver a complete solution—all part of a SASE framework—that meets demands on the fly for agile and ubiquitous delivery of network security.
Software-defined Wide Area Network (SD-WAN)
SD-WAN automates your network's operation, and provides centralized management and administration. It supports dynamic application prioritization, allowing for application-aware routing, enhanced network resiliency, higher performance, and increased control.
Pare-feu en tant que service (FWaaS)
As networks expand to include new cloud deployments, they leave behind security gaps in the process. GTT FWaaS next-generation firewall capabilities fill gaps, ensuring your new applications and services are covered. Get multi-point protection between public internet and private enterprise networks, including SD-WAN, in a complete, cloud-based solution.
Passerelle Web sécurisée (SWG)
As enterprises invest in digital technologies, the volume of business carried out over the internet continues to grow. GTT SWG extends firewall capabilities to protect from online security risks, like malicious sites and web-based threats, by scanning web traffic, safeguarding your data, and enforcing web content policies.
Courtier en sécurité d'accès au cloud (CASB)
As your cloud footprint grows, so does your exposure to threats and vulnerabilities. Your risk increases even more when staff uses their own—potentially unauthorized—applications. GTT CASB mitigates these risks as an intermediary between users and cloud providers with industry-leading threat detection and policy management.
Zero-Trust Network Access (ZTNA)
Prevent unauthorized network intrusion and keep data out of harm's way. Simply control access based on user, device, and application identity—rather than physical location or IP address—for seamless and secure networking. Be confident that your bases are covered by an easily scalable, elastic solution that reduces bottlenecks and improves end-user experiences.
Enterprise Network Security Stakes Are Higher Than Ever.
Now's the time to protect your workforce against dynamic threat environments. The adoption of cloud-based business applications, and distribution of your people across public cloud, remote locations, and mobile endpoints, has made it easier for cybercriminals to take advantage of your business. Learn how you can uplevel your protection in today's complex network environment with SASE.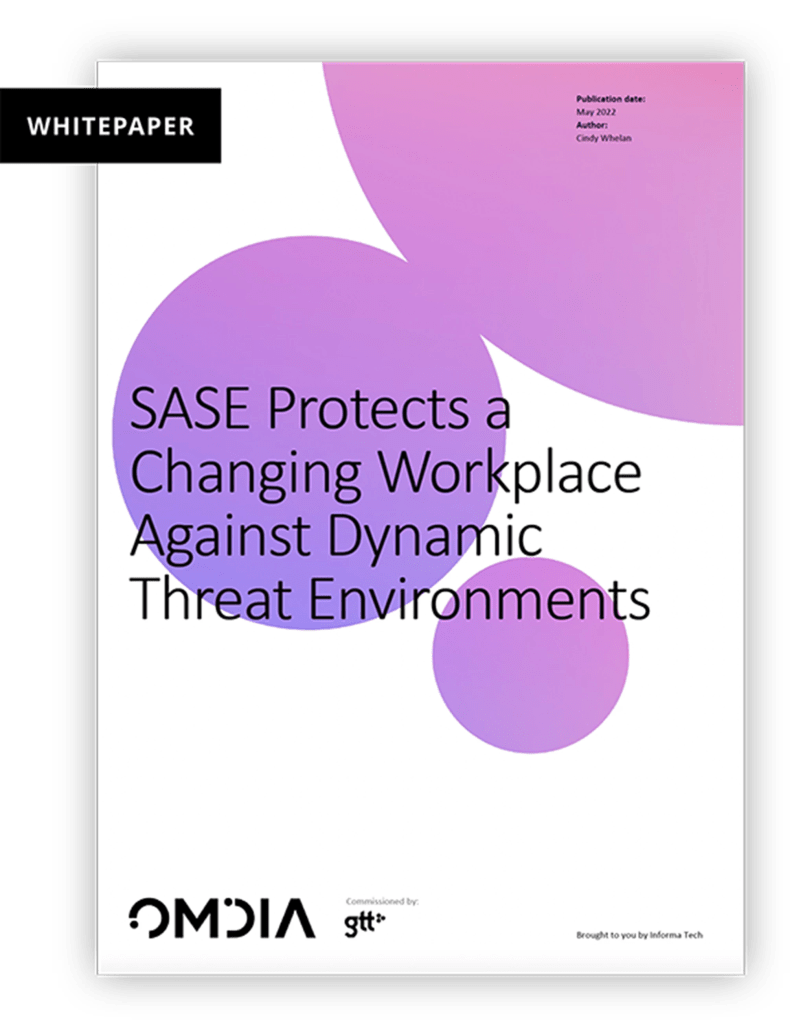 Partners That Help Make SASE a Reality.
Aruba partners with GTT to give customers improved visibility, increased control, and enhanced reliability across their networks, meeting advanced protection needs.
Working with GTT, Fortinet helps customers securely connect their locations to cloud applications, and build smart connectivity platforms to meet specific security and app performance needs.
Collaborating with GTT, VeloCloud by VMware delivers application performance and availability over any network connection, greater visibility and control for optimal performance, and brings users to the cloud.
Partnering with GTT, Palo Alto Networks helps customers secure their perimeters, preventing threats with continuous trust and security inspections.
Learn more about how SASE can work for your network.
We Want You to Focus on Innovation.
GTT's Secure Connect simplifies network migration and management so you have peace of mind about your enterprise's protection, and room to focus on what's next. You get a comprehensive package of networking and layered security solutions from industry-leading partners for next-generation connectivity and safety—all in one place. With Secure Connect, it's easy to protect the future of your business.
It's quite simple, really. Our services from GTT just work.
It was GTT's swiftness and flat organization that particularly appealed to me.
With our managed SD-WAN solution from GTT, we have more options to connect our sites the way we need to.
Fill out the form below to modernize with a connectivity solution that leverages the SASE framework. GTT's custom live demo will help you see how you can transform your network to support users and applications—anywhere.