Spend enough time in the networking business, and you start to think you've seen everything your users could throw at you. Then reality comes along and reminds us that there are things you simply could never anticipate.
Just a few months into a new decade, even our largest clients are setting aside their best-laid plans, shifting focus to secure remote access, urgent bandwidth upgrades, cost-cutting or shuttering locations in the wake of stay-at-home orders. It's a sobering reminder that we can't prepare for everything.
I was reminded of this when reading the new report from Ovum Research, "Rethinking Networks for the Next Decade." In this report, Principal Analyst Cindy Whelan reminds us that it should not have taken a pandemic to wake us up to this reality.
To illustrate, Whelan asks us to look back to the previous decade. You're a future-thinking network executive, sitting in your chair in 2010. What would you have predicted for 2020?
Smartphones and tablets were new, and usually weren't allowed on corporate networks. 4G LTE was still years away. Enterprise networks were still migrating to MPLS. Most of our corporate software was licensed and installed locally, and AWS and Google Cloud were still fledgling services. If users wanted to use a new application, they couldn't just install a browser extension and go. Chances are, they had to ask permission. Those were the days!
Fast forward to today. The pace of change is only accelerating. Facing another new decade, it's impossible for us to know what new technology our users will be asking us to support by 2030, which means agility and flexibility are the watch words for the future. So Whelan asks us to face the facts and embrace this new mode of agility as the top goal in designing our networks.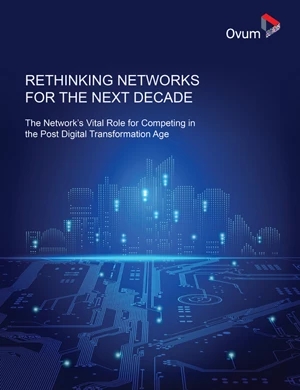 As Jeff Bezos famously said, "The only sustainable advantage you can have over others is agility. That's it, because nothing else is sustainable."
With that as backdrop, Whelan lays out a strong case for SD-WAN with a mix of access types – including the public internet — as key strategies for boosting the agility of the wide area network.
Traditional corporate WAN models often tie every branch location back to the headquarters or data center for access to hosted applications and the public internet, but with today's branches operating on a proliferation of SaaS and cloud-based applications, that can be a highly inefficient design.
This is especially true given the possibilities created by SD-WAN, the technology that is rapidly reshaping wide area network for enterprises around the globe.
As a technology, SD-WAN is deservedly hyped for its ability to bring unprecedented levels of visibility and control to the wide area network. Investing in SD-WAN may be justified by these features alone. But less well-understood is the increased agility that a properly-designed SD-WAN can deliver: agility to more quickly add or remove locations; agility to deploy bandwidth; agility to add, manage, and prioritize applications based on dynamic conditions; agility to deploy secure remote network access; agility to utilize more access types at every branch; and agility to react instantly to network conditions.
Rethinking Networks for the Next Decade covers all this and more:
What corporate users value most in WANs in terms of ROI for the next decade
How a demographic shifts are changing expectations in network capabilities
The dramatic growth in hybrid and multicloud computing
How businesses are using SD-WAN to increase their flexibility
How the public internet has become not only viable but a critical component enterprise networks
The pros and cons of managed SD-WAN vs. building it yourself
And we are still early in the evolution of SD-WAN. Here at GTT, we work with all of the acknowledged leaders in the space, including Silver Peak, VeloCloud, and Fortinet. As they discuss their product roadmaps with us, we continue to see networking agility as an emphasis for their platforms. It's one reason we consider this family of technologies to be critical for delivering on our promise to connect any location in the world to every application in the cloud.
The Greek philosopher Heraclitus concluded that there is nothing permanent except change. About 2,500 years later, we've had to be reminded of that age-old lesson once again, but we like to think that change brings opportunity to those who prepare for it.
GTT is offering copies of the new report Rethinking Networks for the Next Decade for download here. I encourage you to read it, and to share it with your teams. If you'd like hard copies, contact your GTT representative.
Informazioni su GTT
GTT connects people across organizations, around the world and to every application in the cloud. Our clients benefit from an outstanding service experience built on our core values of simplicity, speed and agility. GTT owns and operates a global Tier 1 internet network and provides a comprehensive suite of cloud networking services. We also offer a complementary portfolio of managed services, including managed SD-WAN from leading technology vendors.