In a tech-sector landscape characterized by frequent change, the continued surge of cloud computing has become one of its constants. No longer a trend, it's now an established part of the field. Multi-cloud platform architecture represents one of the most recent — and popular — subsets of the cloud. It allows enterprises to leverage multiple cloud service providers (CSPs), alternating according to specific operational and minimizing downtime from service outages.
Making the most of multi-cloud architecture requires a networking solution that can handle the back-and-forth from one cloud to another, as well as the sheer amount of traffic involved. Software-defined wide area networking (SD-WAN) is ideally equipped to meet this need — arguably more so than any other WAN option.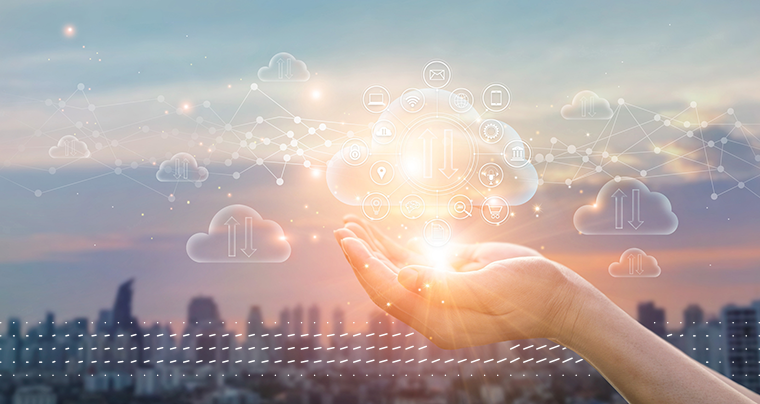 The Rise of Multi-cloud
Before we go further, it's important to distinguish between a multi-cloud setup and a hybrid cloud, as the terms' similarity causes them to sometimes be confused for one another:
Hybrid cloud is a third of the primary cloud triumvirate. A setup of this type combines the use of public cloud storage from one provider, like Amazon Web Services, with cloud infrastructure tools that an organization oversees itself or with the help of a single direct partner, such as a colocation facility. Notable hybrid cloud examples include VMWare and the Microsoft Azure Pack (a combination of the public Azure and the private Windows Server).
Multi-cloud means exactly what its name implies: using at least two entirely separate cloud providers. A multi-cloud setup can involve any combination of private, public or hybrid clouds; the distinguishing factor is that they don't interact with one another (which isn't true of a hybrid deployment). For example, a 2019 Gartner report on this subject found that 81% of respondents claimed to be using two or more public clouds.
Versatility is what's made multi-cloud architecture so prominent. When leveraging multiple hybrid cloud solutions, as is quite common among multi-cloud users, you aren't handcuffed to a single vendor for all of your needs (and thus doomed to downtime if they experience an outage).
Another advantage is the ability to ensure compliance across different aspects of the network that need to meet varying requirements: For example, an enterprise could use one cloud to handle data from its European customers or business partners, which must meet the strict General Data Protection Regulation (GDPR) privacy guidelines, and another for customers from countries with less restrictive data laws. Last but not least, multi-cloud architecture allows for better performance when using numerous software-as-a-service applications, as so many enterprises do.
Potential Roadblocks
All things being equal, multi-cloud architecture shouldn't create complications — more often than not, it eliminates them. But there are negative issues that can arise in these setups, which must be addressed.
The main risk arising in these situations is if you have to backhaul traffic intended for the cloud to the data center, this can be detrimental to application performance and lead to end-user dissatisfaction. (Ideally, the end-user should rarely, if ever, be aware of such issues.) It can also be quite costly to direct traffic between clouds if you're using traditional WAN architecture, especially if it's high-speed multiprotocol label switching (MPLS): This creates something of a Catch-22, as MPLS is otherwise ideal for high-speed, high-quality cloud performance.
Furthermore, IT departments must pay equal attention to each cloud provider to optimally monitor the traffic contained therein, which requires considerable man-hours and technical resources. Achieving broad visibility becomes difficult. Also, looking out for security issues across multiple cloud vendors can be immensely taxing.
How SD-WAN Bolsters Multi-cloud
According to a July 2020 whitepaper from IDC, worldwide spending on digital transformation technologies, including SD-WAN, is likely to expand at a 17.9% compound annual growth rate through 2021, reaching a market value greater than $2.1 trillion. Additionally, among 800 enterprises surveyed, 64% were either actively planning an SD-WAN implementation or already used the technology.
SD-WAN's support for multi-connectivity options, including different cloud providers, is key to its rising popularity. The uptick in the use of Software-as-a-Service (SaaS) platforms — with many enterprises using dozens of them at once —also plays a significant role, as these organizations need SD-WAN's power to manage this traffic successfully. SD-WAN allows organizations far greater oversight of multi-cloud traffic and connectivity. Network administrators can achieve optimal visibility across the entirety of their network infrastructure no matter how many different cloud platforms they may be using at once.
Unobstructed control of traffic means admins can direct it as necessary to serve the needs of different applications and business units, due to the application awareness functionality (sometimes called "application steering") available in the best SD-WAN solutions. And when used in conjunction with third-party security tools like security information and event management (SIEM), the technology also facilitates improved security that is consistent across all cloud environments.
GTT's SD-WAN Services Maximize Multi-cloud
Utilizing the SD-WAN solutions and related services that GTT Communications has to offer gives your organization the best path to the cloud, no matter which cloud you're using at any given moment, or for what purpose. GTT's globe-spanning infrastructure as a Tier 1 telecom provider optimizes uptime and resiliency. When coupled with our Virtual Data Center hybrid cloud platform and other clouds of your choosing, you can achieve unparalleled control of traffic and mission-critical application performance in a secure environment.
Acerca de GTT
GTT connects people across organizations, around the world, and to every application in the cloud. Our clients benefit from an outstanding service experience built on our core values of simplicity, speed, and agility. GTT owns and operates a global Tier 1 internet network and provides a comprehensive suite of cloud networking services. We also offer a complementary portfolio of managed services, including managed SD-WAN from leading technology vendors.