The arrival of a global pandemic in 2020 was not something anyone could have predicted. It increased the draw on the networks connecting people and organizations globally, as well as the technical staff who run network operations everywhere.
With thousands of businesses served by GTT's global network, we're tasked with keeping the network running 24 hours a day, seven days a week. To avoid any disruption, it's part of our job to be prepared for the unexpected from a business continuity standpoint. So, how do we do that on a global scale?
As GTT's EVP for Platform Operations and Engineering, I lead our business continuity planning at the operational level. Ensuring the health and safety of our colleagues is paramount to what we do, together with safeguarding the network performance, reliability and security our clients' businesses rely on.
We operate five network operation centers, client service locations and subsea landing stations throughout the world. Our network management team has experience with managing many different types of natural disasters — everything from volcanic ash clouds to hurricanes and earthquakes. Even so, the coronavirus pandemic has been very different in scale due to its worldwide impact.
It's incredibly challenging to execute a business continuity plan in a pandemic. It's very different from many other business continuity scenarios and has required immense agility.
In my 20 years working with business continuity, the pandemic question has always been there, as a potential risk hanging overhead. You think it might not ever happen. But when we saw how Italy locked down in March, we knew it was time to prepare for implementing our global pandemic business continuity plan in full.
Stress Testing for Preparedness
Our established practice of stress testing our business continuity plan takes place quarterly. We run scenarios in which we simulate how we would respond to different kinds of crisis events. This testing helps us ensure that we have the right resources available from a systems, process, and people perspective to let us deal with the situation in question.
To stress-test, we first design a scenario, either natural or manmade. Then about 50 people get on a call — everybody right from the first management level up to me. Staying on the call throughout, we then run the scenario as close to reality as possible. For example, if the scenario includes relocating to a disaster recovery site, our colleagues will get up out of their seats, leave their workspaces and travel to the specified location. The exercise is timed to find out how long it takes to set everyone up, get people working and onto the network, ensure they're able to make calls, and so on. At the point where we're comfortable that services have been "restored," we finally close the call. Afterward, there's an audit report, which goes through what went well and what needs to be looked at for shoring up, fixing, or adding to our process documents. This helps us work differently, more effectively, or faster next time.
Responding Quickly
We decided to act in line with some of the first government-imposed lockdown orders. Doing this meant immediately beginning to pivot hundreds of our technical staff to start working from home. Our business continuity plan was executed in several phases, and the key functional areas that were involved included our service desk, network monitoring and service delivery provisioning teams. In just a week, we went from having a quarter, to half, to nearly all of our technical staff working from home.
I've been impressed time and again with the foresight, collaborative spirit and huge resolve our technical staff has shown.
Doing this rollout gradually helped us take an agile approach to any new decision-making. We worked incrementally and hand in hand with our internal IT team, which meant we were able to very quickly understand any issues that came up and what was causing them. As an example, we soon found out that home internet in most countries is very good quality. For the handful of people who didn't have sufficient broadband quality to work from home, we were able to order expedited upgrades with local providers. This helped ensure adequate bandwidth for them, and we also purchased a small stock of 4G SIM cards for preparedness in disaster recovery scenarios.
Having readily accessible replacement stock was something we also worked on more broadly. For example, with laptops, we ensured we had reserves in different locations around the cities we operate in, which would be accessible even during lockdown. This foresight proved particularly useful in those locations where whole office blocks were locked down by local authorities, as well as in cities like Pune, India, where laptops quickly became in short supply as businesses rushed to support their employees to be able to work from home.
Operating a Good Working Environment With Dispersed Technical Staff
As we were planning and making changes to how we worked, a big concern for me was how the new environment would impact our colleagues, especially anyone working night shifts. Speaking from my own experience, when you're on late night shifts, it's a really important part of having a good working environment that you have the familiar routine of being in the office, as well as the camaraderie of your colleagues there with you.
To overcome this, we had a big focus on communication. Especially in the beginning, when everyone was forming their new routines for working from home, I took the view that we had to actively facilitate it.
To do that, we set up twice-daily meetings, at 7 a.m. and 7 p.m. CET. This saw us covered across shifts for both European and U.S. times. Right from the top level down, everyone would join these calls. This helped ensure good shift handovers and provided a forum to bring up any early issues the teams encountered while navigating this new environment.
The top priority remains ensuring the safety of colleagues and, through that, the continuity of service for clients.
Each NOC representative would take turns giving comprehensive updates, covering everything from the status of our clients as lockdowns came into force around the world, to network stability, and finally to any connectivity issues worth noting that our colleagues working from home had encountered. I would finish each session by sharing a general status on the pandemic restrictions: what was expected to lift or to come into force. These meetings gave all of us a forced communication corridor. After the initial period, we moved to have just one daily meeting, and now we continue to meet three times a week.
Keeping Focus
It's incredibly challenging to execute a business continuity plan in a pandemic. It's very different from many other business continuity scenarios and has required immense agility. I've been impressed time and again with the foresight, collaborative spirit and huge resolve our technical staff has shown. The need for that heightened agility will continue to be key in the months ahead.
With that in mind, I believe it's important to keep your tactics flexible and to keep actively seeking input from other parts of your business, as well as from the outside. At the same time, it's important to look ahead and try to anticipate what operational requirements might be around the corner. It can be difficult to find time for that when there are many other immediate priorities. One approach I'd recommend for businesses to stay on the front foot is to try to establish and continually update your plans for how you will handle any work backlog that's building up as you're dealing with the most urgent needs first. Having a plan in place to handle what you can't do right now can provide reassurance and helps when there's a need to communicate status to others.
The top priority remains ensuring the safety of colleagues and, through that, the continuity of service for clients. I continue to work very closely with our HR and client experience teams, supporting our colleagues to stay safe at work and keep our services running smoothly. Looking ahead, our planning philosophy takes a cautious approach that reflects a range of potential circumstances. This is in order to maintain our ability to respond with agility as the pandemic evolves, and it lets us keep adjusting our practices to each geography as needed.
Managing Network Operations & Client Experience Impact
I've been very pleased that the metrics on customer satisfaction for our NOC support have shown consistent improvement since the pandemic began, even as our NOC personnel has moved to working from home. Around the world, we've also seen providers putting a huge emphasis on network stability as the pandemic began to surge, taking steps such as only allowing essential planned network maintenance. At a time when it's been more important than ever to be connected, actions like that have helped ensure the integrity of networks globally.
Learning & Leadership
I was born in New Zealand, about 100 kilometers off White Island. There can be a lot of volcanic activity around there, and learning respect for the unexpected was part of growing up. Our local community was strong, and everyone looked out for each other. As I've progressed through my career, I've always tried to take that mindset with me.
I place a lot of value on making personal connections in my organization. I've given team updates on our calls about how I'm doing much more cooking at home now, enjoying time together with my children. I've found the response really positive, and I check in with my team more than ever before. We're all going through many of the same things, so we take time to talk about what's happening beyond our work issues. We share ideas for family or individual activities, what we've watched and liked on Netflix, as well as helpful advice on coping with lockdown. I think I've learned more about the people I work with in the past five months than I had in the 10 years that came before.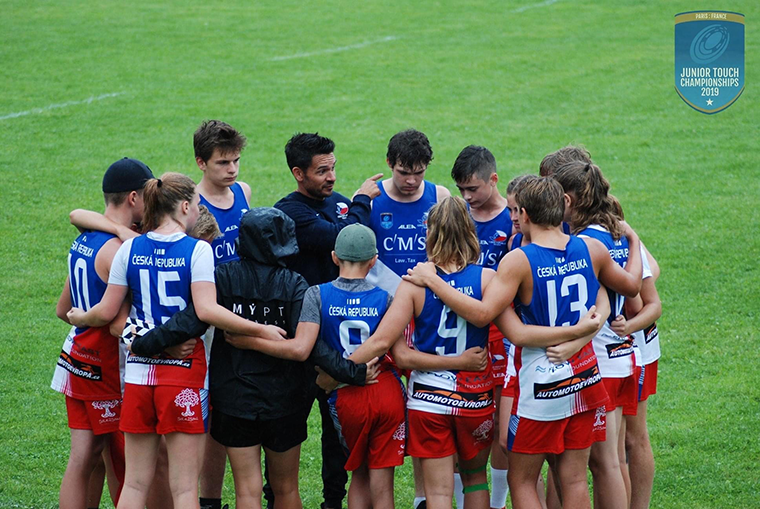 I also think it's important to find ways of keeping up with pastimes outside work and encouraging that. I'm head coach for the Czech Republic Junior Touch rugby organization. Because I have been unable to coach during lockdown, I've been keeping the contact going by doing video analysis for teams, assigning individual fitness programs, and giving feedback that way.
Critical Success Factors for an Effective Business Continuity Plan
In my experience, the way to deliver successful business continuity is through advanced planning, consistent stress tests, and regular communications. Beyond that, having a dedicated team of talented technical personnel cannot be underestimated. Working at GTT, I feel fortunate to have colleagues who value outstanding support and strive to deliver it every day. Ultimately, that effort is what enables us to navigate this crisis effectively and support our clients well.