Barry Callebaut at a glance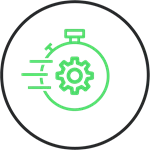 TRANSITION TO FOURTH-GENERATION NETWORK
Upgrade from a hybrid MPLS network to a flexible and reliable software-defined architecture

CONTROL AND COLLABORATION
Increase visibility and control using the EtherVision portal and VMware orchestrator

Global transformation of 130+ sites completed six weeks ahead of schedule

With over 175 years of chocolate heritage, Barry Callebaut produces high-quality chocolate and cocoa products for clients around the world. It serves businesses of all sizes, from global to local, including food manufacturers, hotels, caterers and more. With a sales volume of 2.2 million tons a year, Barry Callebaut is present in one out of every four chocolate products in the world.
Barry Callebaut relies on its network to connect its different factories and locations, facilitate intercompany collaboration and maintain a universal standard of operations. With a wide distribution of sites around the world, the company requires a global connectivity provider experienced in managing global networks with the ability to find the best local access partners to connect even the most remote locations.
Global WAN evolution
Evolving its wide area network to help advance its digital and cloud-first strategy
Expanding and innovating
With sales volume of 2.2 million tons a year, Barry Callebaut is present in one out of every four chocolate products in the world
Cost savings
Increased available bandwidth by 77% while lowering cost per MB by 66%
We are committed to expansion, innovation, cost leadership and sustainability. Our network needs to underpin and enable these key business drivers,
Steven Vandamme –CIO, Barry Callebaut
A next-generation network. A modern WAN architecture
The discovery process involved several stages, starting with a proof-of-concept, followed by a three-site pilot across Africa and Europe. After a thorough diligence process, Barry Callebaut ultimately chose GTT's Managed SD-WAN, coupled with its Professional Services package, to help transform its current network and establish its fourth-generation global WAN.
GTT implemented Managed SD-WAN at over 130 Barry Callebaut sites. The SD-WAN solution integrates VMware SD-WAN technology with GTT's industry-leading global Tier 1 internet backbone that connects to six continents, providing private and direct cloud connectivity. GTT's SD-WAN also enhances the performance of businesscritical and supply chain applications for Barry Callebaut. Most of the manufacturer's sites feature dual connectivity with a mix of Dedicated Internet Access (DIA) and Multiprotocol Label Switching (MPLS) links, ensuring continuous connectivity should one line fail.
he inclusion of GTT's comprehensive managed network solution with Professional Services ensures a consistent global service experience for Barry Callebaut. It benefits from collaborative support and ownership across all project stages, from plan and implementation to ongoing assurance and service management. GTT has a team of dedicated operational and technical experts providing a seamless, intuitive and personalized experience. Barry Callebaut has engaged with GTT's designated team to support its Program, Project, Technical and Incident management requirements relating to the worldwide deployment and operation of its fourth generation network.
Interested in learning more about GTT products & services? Please complete this short form to schedule a call with one of our sales consultants.
Thank you for your information. One of our sales consultants will be in touch with you.