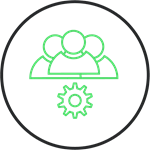 EXCEPTIONAL CUSTOMER SUPPORT

Greenyard supplies retailers around the world with fresh, frozen and prepared fruits, vegetables and plants. Its products help people create tasty meals and healthy snacks, including plant-based alternatives to meat and fish.
To improve efficiency and reduce operational costs, Greenyard developed an ambitious digital transformation plan and has adopted a cloud-first strategy. This entailed the rollout of global cloud-based platforms such as Microsoft 365, Microsoft Teams, Infor (ERP Connectivity Suite) and Axon (WMS) across its Fresh Division. Orchestrating such a cloud migration can be difficult, especially when having to simultaneously manage thousands of employee users and multiple suppliers.
Digital Transformation
Digitally transforming and needs a network that can keep up
Customer Support
Providing live telephone support to large worldwide customer base
Flexibility & Scalability
The need for control and to rapidly deploy software updates, everywhere and on a continuous basis.
GTT's managed SD-WAN and SIP Trunking solution is the foundation for our cloud strategy and is helping us achieve operational and cost efficiencies
Luc Verbist –Group Director ICT, Greenyard
Today, GTT provides a resilient, secure network solution for data and voice that connects Greenyard's plants and people around the world to each other and the critical applications they rely on every day. Greenyard now has an advanced global network platform with only one provider for greater ease of supplier management, rather than the 30+ it had before. This allows the company to standardize its ICT approach across all its sites. With one network provider, Greenyard's rollout of global applications can be fast and smooth.
GTT provides Greenyard with a managed SD-WAN service across 70 sites in Europe and North America, including Austria, Belgium, Czech Republic, Germany, Spain, France, Hungary, Italy, The Netherlands, Poland, Portugal, UK and US. The network has redundant connectivity in place at each site, providing network resiliency with more efficient use of bandwidth. Leveraging an optimized mix of connectivity options, the SD-WAN service ensures both the active and backup connections can be carrying company voice and data traffic at the same time. Smaller sales offices use a fixed-line primary connection complemented by a 4G wireless backup solution in case there's an issue with the primary service.
Greenyard's unified communications platform makes use of GTT's SIP Trunking service, and includes over 6,000 telephone numbers, with global termination. GTT's SIP Trunking service easily integrates with GTT SD-WAN, MPLS or internet services and complements Greenyard's rollout of cloud-based collaboration with Microsoft Teams.
Greenyard relies on GTT to protect its network with geographically distributed cloud-based firewalls and load-balancing services. VPN concentrators ensure data traffic is exchanged securely between Greenyard's remotebased users and its supply chain and distribution partners.
Interested in learning more about GTT products & services? Please complete this short form to schedule a call with one of our sales consultants.
Thank you for your information. One of our sales consultants will be in touch with you.